The Ultimate Group Adventure
50-foot self-navigating adventure park.
The Adventure Park Group Package
Our adventure park is the perfect venue for:
Birthday parties
Graduation parties
Scout troup parties
Class parties, and more!
$35
$
28
Per Person for 2 Hours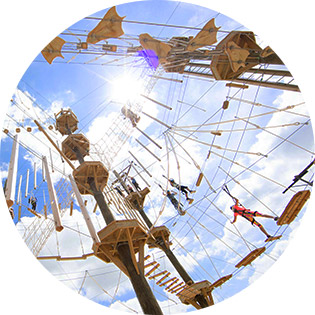 60 Challenges
60 ninja-worthy challenges to tackle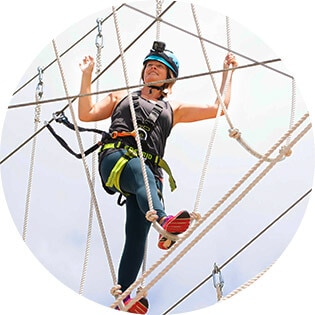 50 feet of fun
Three stories and over 50 feet of fun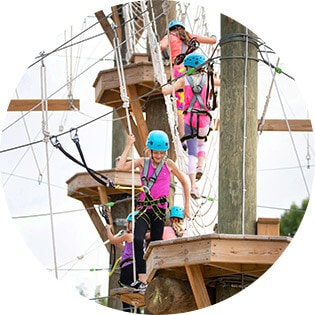 2 hours
2 hours of outdoor climbing adventure
The Ultimate Party Adventure
Our self-navigating adventure course has something for everyone including smaller challenges for younger visitors, to higher, more challenging elements for those looking to push their limits.
How People Describe Their Adventure
Fun and Professional
I took my 13 year old son to Kerfoot Canopy Tours in March of 2018 and he loved it! I'm a bit nervous about heights but their professional guides made me feel quite comfortable and secure.
Incredible Experience!
We had an incredible zip line experience at Kerfoot. Our guides were extremely professional and patient. Don't let the rural location concern you. It's worth the drive!
Rent a Go Pro
Great time and experience. Staff was fantastic. I highly recommend getting a go pro or renting one since phones/cameras are not allowed on the course. I will definitely be doing this again
A short getaway from the Twin Cities! You'll get here in no time but feel worlds away from the city.
From Eden Prairie: 35 minutes
From Mankata: 40 minutes
From Downtown Minneapolis: 50 minutes 
Reservations are strongly encouraged. Without a reservation, we cannot guarantee that we will be able to accommodate you, although we will try to accommodate people stopping in if we have space available. Book Today!
Our adventure park runs in all weather, unless extreme winds or lightning. Our course manager on duty will determine tour cancellations and guests may be notified at anytime regarding a cancellation. If your tour is cancelled, we will offer you the opportunity to re-book the tour within a month of your cancellation date when we have availability.
Cancellations made 7 days in advance will receive a 50% refund. Cancellations made within 7 days of a reservation will not be refunded, but you can reschedule.
Zipline Summer Camp for Ages 11-15
Join us for an epic 3 days at our Zipline Summer Camp at Kerfoot Canopy Tour. You'll learn what it takes to be an adventure guide, and experience the best of all our adventures.