Minnesota's Ultimate High Ropes Challenge Course
Take your adventure to the next level
Looking for a late fall or winter adventure?
Planning a 2020 group adventure?
This high ropes adventure allows you to choose your challenges with 45 obstacles spread over three different stories. You'll be clipped in the entire time, without the ability to accidentally unclip.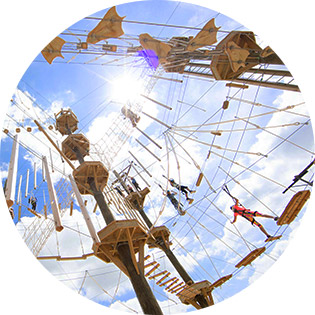 Explore Freely and Securely
Master up to 45 obstacles like the Parallel Swing Stix or Diminishing Platforms. You'll have freedom to explore as much or as little as you like!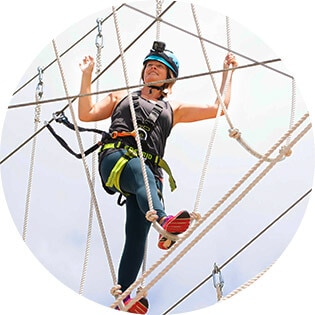 Set Your Pace
Navigate the course for up to 2 hours. Take it one step (or leap) at a time, or push your limits in a heart pounding dash to the top.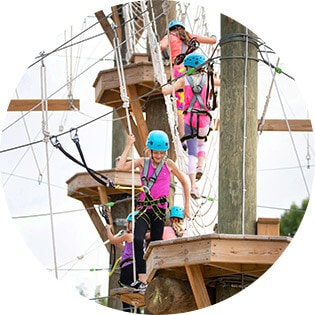 Climb Up to 50 Feet High!
How high you get is completely up to you. Keep it low, or climb to our highest elements 50 feet off the ground!
Our Favorite Fall Things To Do Near Us
Emma Krumbees Apple Orchard
This orchard & farm invites guests on a fall adventure to discover the bounty of farm-grown delights. Featuring an apple orchard, pumpkin patch, wagon rides, homemade sweet treats, and the host of the area's famous Scarecrow Festival.
Minnesota's Largest Candy Store
A family-owned and operated retail store specializing in candy, apples, fall produce, baked goods, jigsaw puzzles and gift shop items. The store is only open through November so get out and shop its local treasures while you can!
Henderson RoadHaus
Fill your belly with classic bar eats like burgers, pizza and wings. The kids will love the variety of pinball games. Located right on the main drag of charming Henderson.  
U4ic Brewing 
U4ic features 24 taps including root beer, hard cider and a variety of rotating craft beers. The brewery hosts food trucks, live music, and a variety of community events.
Chankaska Creek Ranch & Winery
Enjoy a day of indulgence at the award-winning Chankaska Creek Ranch & Winery, the second largest winery in MN. This beautiful estate creates an intimate atmosphere for tasting handmade wine and spirits. 
Ney Nature Center
Get out and enjoy the beauty of Autumn at Key Nature Center's 446 acres of beautiful scenery. Enjoy activities like hiking, bird watching, animal meet and greets, carving lessons, and archery events. See upcoming events
here
. 
Rush River County Park
Rush River's "off the beaten path" location offers horseback riding, walking trails, swimming, birding, camping, picnicking and a children's playground.
Best Ways to Thrill Your Group
Special pricing available for groups of 10 or more.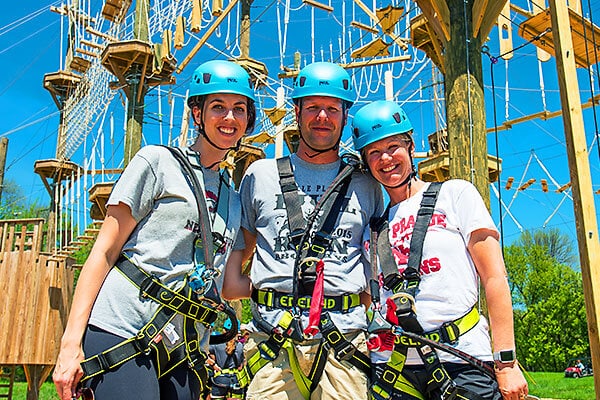 Corporate Bonding & Team Building
Enjoy a day out of the office on an exciting adventure that your team will love. Enhance teamwork, build trust, and improve team communication.
Plan a Team Building Event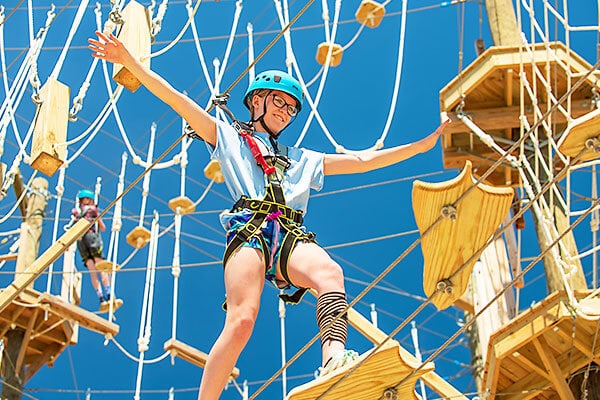 Family Bonding & Staycation
Connect with your family and have LOADS of fun at a USA Today Top 10 award winner. It's just a short drive from Minneapolis to our beautiful location in the remote Minnesota River Valley.
Plan a Family Bonding Day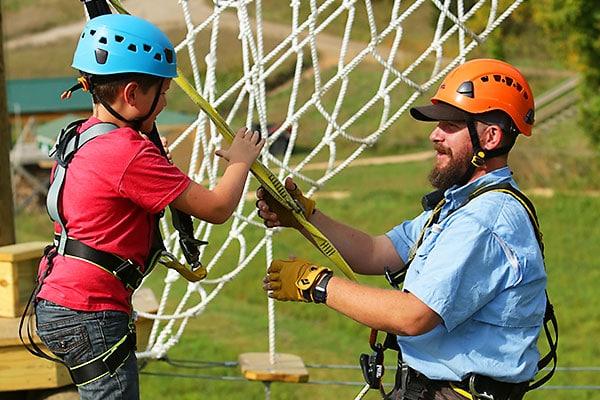 Our high ropes challenge course is a Scouts BSA COPE qualified High-Course Activity! Combine with STEM courses like Science Everywhere, or Swings & Pulleys to work toward belt loops & pins.
Plan a Scout Group Adventure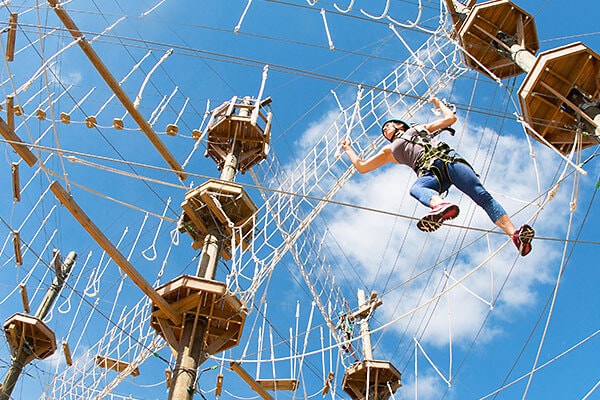 Cross Training for Sports Teams
The course is an excellent cross training opportunity for any sports team. Build team cohesion and and enhanced cooperation while swinging, jumping, climbing, balancing, and overall physical strengthening.
Plan Your Team's Event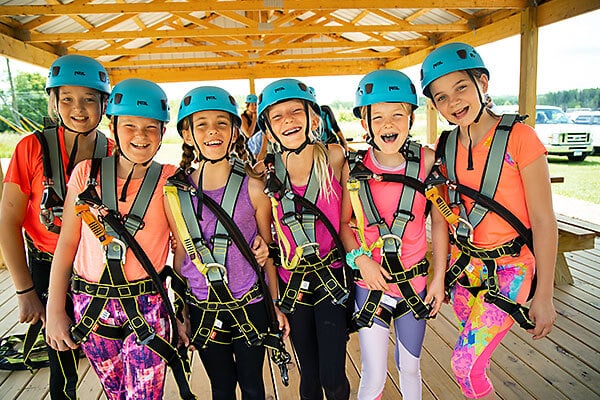 Celebrate life events by making memories together. We can accommodate groups large or small, and the challenge-by-choice nature of the course means that any type of adventurer (ages 7+) can enjoy a thrilling challenge.
Plan Your Party
Church, School, and Non-Profit Events
A high ropes course makes for a great youth group event or school outing, letting energetic kids and teens escape outdoors.
Plan Your Event
Groups of 8 or more save 20%. Non-profit groups save 30%.
How People Describe Their Adventure
Fun and Professional
I took my 13 year old son to Kerfoot Canopy Tours in March of 2018 and he loved it! I'm a bit nervous about heights but their professional guides made me feel quite comfortable and secure.
Absolutely Perfect!
We had a great time!!! One person in our group even has a fear of heights and they would do it again they said. Awesome guides and amazing experience... Hope to do it again!
Awesome Adventure
I brought my two daughters and their friends for an afternoon of fun and we all got so much more! The park is set up so that the participants can choose the difficulty. The staff did a fantastic job keeping up with them and challenging them.
A short getaway from the Minneapolis, MN! You'll get here in no time but feel worlds away from the Twin Cities.
Address:
30200 Scenic Byway
Henderson, MN 56044
Drive Times:
From Eden Prairie: 35 minutes
From Mankato: 40 minutes
From Downtown Minneapolis: 50 minutes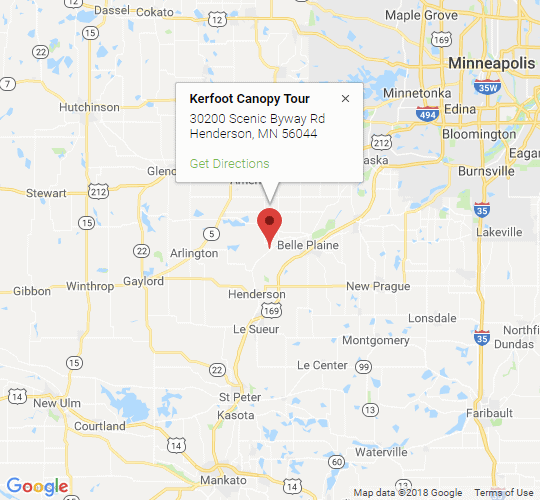 Plan Your Group Adventure
Zipline Summer Camp for Ages 11-15
Join us for an epic 3 days at our Zipline Summer Camp at Kerfoot Canopy Tour. You'll learn what it takes to be an adventure guide, and experience the best of all our adventures.