Minnesota's Ultimate
Adventure Park Experience
Three challenging stories of outdoor fun
Reopening Spring 2019
The Kerfoot Adventure Park is closed for the 2018 season, and will reopen in spring 2019. If you would like to be notified of any special off-season events at the adventure park, please join our newsletter.
Take on Our 21 Ninja-Worthy Challenges
Our self-navigating adventure course has something for everyone including smaller challenges for younger visitors, to higher, more challenging elements for those looking to push their limits.
This family-friendly adventure includes 21 unique challenges spread over three different stories. You'll be clipped in the entire time, without the ability to accidentally unclip, keeping you and your family ready to enjoy the vast array of elements safely and securely.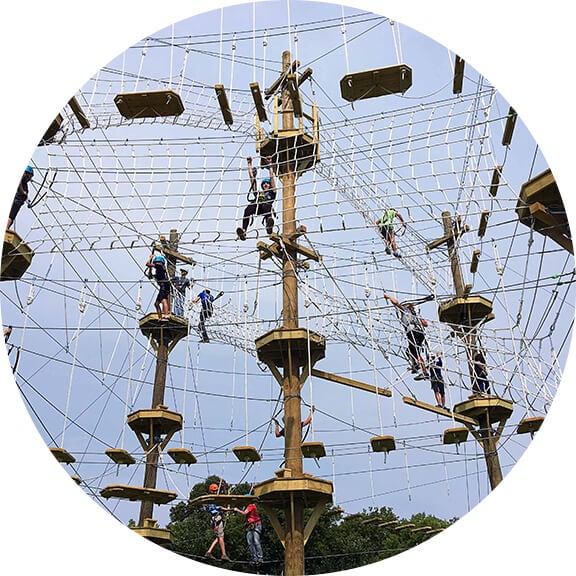 21 Challenges
21 ninja-worthy challenges to take on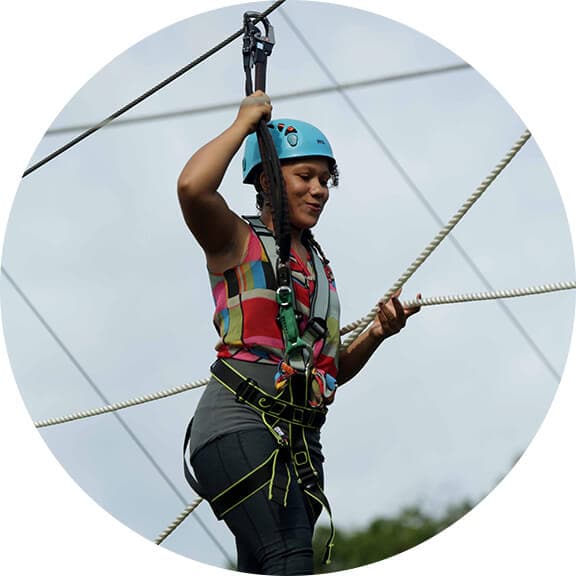 50 feet of fun
Three stories and over 50 feet of fun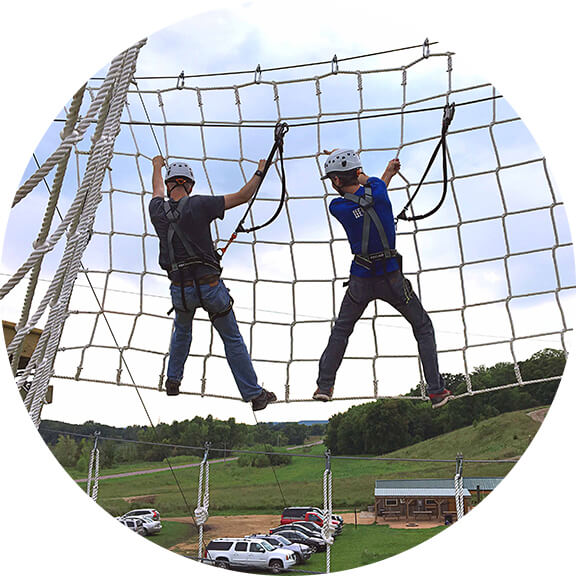 2 hours
Two hours of outdoor climbing adventure
How People Describe Their Adventure
Fun and Professional
I took my 13 year old son to Kerfoot Canopy Tours in March of 2018 and he loved it! I'm a bit nervous about heights but their professional guides made me feel quite comfortable and secure.
Absolutely Perfect!
We had a great time!!! One person in our group even has a fear of heights and they would do it again they said. Awesome guides and amazing experience... Hope to do it again!
Awesome Adventure
I brought my two daughters and their friends for an afternoon of fun and we all got so much more! The park is set up so that the participants can choose the difficulty. The staff did a fantastic job keeping up with them and challenging them.
A short getaway from the Twin Cities! You'll get here in no time but feel worlds away from the city.
From Eden Prairie: 35 minutes
From Mankato: 40 minutes
From Downtown Minneapolis: 50 minutes 
Scouts, Churches, Schools, and Non-Profit Groups
Just $20 per guest (Sunday through Friday) 2 Hour Tour 10 Person Minimum
Book Now
Adventure Park Party Package
Small price, BIG FUN! 2019 pricing coming soon.
1.5 hours
Contact us to book your party:
(952) 873-3900 or
[email protected]
Are reservations required?
Reservations are strongly encouraged. Without a reservation, we cannot guarantee that we will be able to accommodate you, although we will try to accommodate people stopping in if we have space available. Book Today!
How can I make group reservations for groups of 10 or more people?
Please call us at 952-260-2663 or fill out our group form to organize a group reservation. We also welcome group requests via email at [email protected] We welcome groups of all sizes from a small scout group or birthday party to a large bus tour or corporate team building activity. Depending on when you want to join us for your next group experience, we have other custom options available. We look forward to hearing from you soon.
What is your cancellation policy?
Our canopy tour runs in all weather, unless extreme winds or lightning. Our course manager on duty will determine tour cancellations and guests may be notified at anytime regarding a cancellation. If your tour is cancelled, we will offer you the opportunity to re-book the tour within a month of your cancellation date when we have availability.
Cancellations made 7 days in advance will receive a 50% refund. Cancellations made within 7 days of a reservation will not be refunded, but you can reschedule.
What else is there to do in the area?
Zipline Summer Camp for Ages 11-15
Join us for an epic 3 days at our Zipline Summer Camp at Kerfoot Canopy Tour. You'll learn what it takes to be an adventure guide, and experience the best of all our adventures.