Give the Gift of Fun! All Mid-Week Gift Certificates are Just $42.50 Per Person.
For a limited time, you can give the gift of TripAdvisor's top Minnesota outdoor activity—the epic 14-line Kerfoot Canopy Tour—for just $42.50 per person. That's half off, and our best sale of the year!
Offer Details
Buy your gift certificate between November 21 and December 25, 2018, and your recipients can book their adventure for any Monday – Thursday between May 1 and October 31, 2019. Memorial Day, July 4th, and Labor Day are excluded. Groups are welcome!
Your recipient will immediately receive an email with the gift certificate code, at a value of double what you paid.
Kerfoot Canopy Tour is the top-rated zip line tour in Minnesota, and one of the longest, highest, and fastest in the Midwest! We're located just southwest of Minneapolis. 
We start things off at Ground School where two professionally trained guides teach you the 'ropes' of ziplining. Then, it's off to our progressively higher, longer, and faster lines—including Dragon's Back (700 ft), Kong (900 ft), and Red Tail (1200 ft)! See for yourself why this is the top-rated Minnesota zip line tour. 
Learn more about our zip line tour.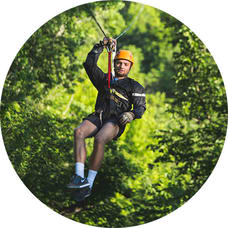 14 Zip Lines
Over a mile of ziplining across 14 lines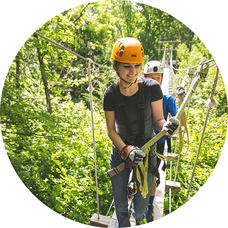 Suspension Bridge​
170 foot suspension bridge over the Minnesota River Valley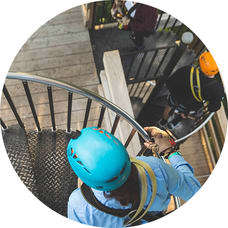 Spiral Staircase​
Massive spiral staircases that show you how good the birds have it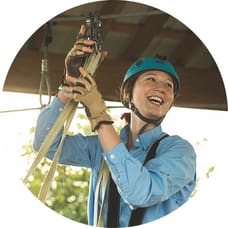 2.5 Hours​
2.5 hours of breathtaking outdoor adventure
How People Describe Their Adventure
Better than Hawaii
I have zipped in Hawaii and there is no comparison between the two. Kerfoot is so much better! A definite "must do" for anyone.
Fun and Professional
I took my 13 year old son to Kerfoot Canopy Tours in March of 2018 and he loved it! I'm a bit nervous about heights but their professional guides made me feel quite comfortable and secure.
Incredible Experience!
We had an incredible zip line experience at Kerfoot. Our guides were extremely professional and patient. Don't let the rural location concern you. It's worth the drive!
Rent a Go Pro
Great time and experience. Staff was fantastic. I highly recommend getting a GoPro or renting one since phones/cameras are not allowed on the course. I will definitely be doing this again.